Connect with us

Join our list
Upcoming Events
Picture Perfect Pet Contest:
To enter, follow this
link
to the NDGLB Facebook page and upload a photo of your prize-worthy dog, cat, or other animal companion proudly wearing No Dog gear. Don't have No Dog gear? Then just visit the NDGLB Store.
All photo contest entries must be uploaded no later than midnight, Thursday, May 28, 2015.
Beginning Friday, May 29 and until midnight Friday, June 12, voting will be open. Anyone & everyone is encouraged to go onto the NDGLB Facebook page and vote for the critter that rocks a No Dog bandana or tee the best.
Contest entrants – make sure you get everyone you know to vote. And as a special bonus, anyone that votes AND adds a comment on that picture will count as two votes!
We will announce the winning NDGLB fashionista on Sunday, June 14. The winning pet and his/her human will win a No Dog prize package PLUS a $200 donation made in their names to one of three war dog rescue organizations supported by NDGLB. Good luck!
Currently Fundraising For K9 EGGY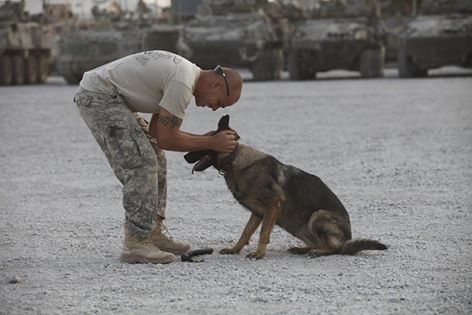 K9 Eggy was a Patrol Explosives Detection Dog working alongside coalition forces in Afghanistan with her Handler Erkman. "…She was a mascot, protector, and a reminder of home all rolled into one for the troops she served". When her handler's deployment came to an end, Eggy had to stay behind in Afghanistan. Eggy suffers from arthritis in her back and was medically retired in late 2014. Handler Erkman said " there was nothing as hard as leaving Eggy behind in Afghanistan and I have been keeping my eye on her since I left and it is now time for her to come home to me". NDGLB is proudly sponsoring the reunion of these two heroes.